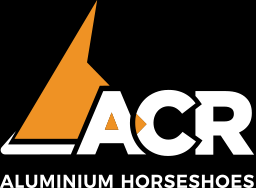 ACR ROLLING IRON ENDURANCE 10 MM model 2000
Ref: ACR-2000

The ACR Rolling Endurance shoe is ideal for endurance or race horses. Its profile increases grip, its rolling toe promotes "break-over", reduces the front lever arms (relieves the deep flexor) and promotes the sinking of the heels into the ground (prevents the problems of the suspensory apparatus of the fetlock and the superficial flexor) .
Its lighter profile reduces weight while maintaining good resistance.
Its stamping allows it to be placed with two clips by moving it back under the foot while maintaining optimal broaching. The beveled edge on the inner edge prevent iron removal.
Available in Ti alloy "Titadur" very resistant on abrasive ground.
100% secure payments
Geometric design
- Reduced and profiled coverage, rolling toe to the start of the quarter.
- Branches hollowed out on the inner edge.
Biomechanical impact
- Decreases the front lever - facilitates the "break over" (departure of the foot).
- Promotes the sinking of the heels into the soft ground.
- Reduces stress on the suspensory apparatus.
- Its narrow coverage and its profile increase adhesion and "grip" on soft ground.
- Turn adapted to narrow feet (Arabian, Iberian or German horses).
Requirements
- Multidisciplinary sports shoe.
- Narrow feet.
- Thin-walled and fragile hooves.
- Prevention of tendinopathies